GIFT CERTIFICATES AVAILABLE
Please call us at 705-743-7789
OPEN SPRING 2018
Milltown will open for the 2018 season. We were notified by our new landlord last year that he is going to develop the Milltown property. His development plans are behind schedule so we will now be open for the 2018 season. Milltown will open on May 1st, 2018. Come on down for some fun while it lasts.
Welcome to Milltown Mini Golf – Family Fun Park
Milltown is a family oriented amusement park located in Peterborough Ontario. We have over 2 acres of beautiful landscaped park area.
Putt by 2 fish ponds, a working water wheel, a running water sluice all surrounded by beautiful gardens.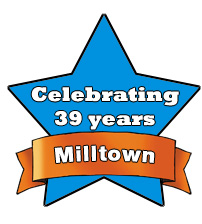 To add to your enjoyment we also offer Batting Cages, Rock Wall Climbing, Water Wars, Gemstone Panning, Build Your own Teddy Bear, an Abandoned Mine Shaft Gemstone Hunt and Treasure Hunt. Hunt for real coins from around the world with an authentic metal detector. Enjoy yourself at the Paintball Target Range and see how many targets you can successfully knock down. The targets get hit, you don't. After your activities, relax with a refreshment and enjoy watching others get soaked in the Water Wars game.
Milltown has been a family owned business since it was established in 1985. It our objective for you to experience a fun and enjoyable time in a safe environment with your family and friends. Thank you for your business.
Watch our 2015 Commercial