GIFT CERTIFICATES AVAILABLE
Please call us at 705-743-7789
Milltown has implemented Covid-19 Safety Rules for the Safety of our Customers and Staff
1. Please do not enter if you are feelilng any of the following symptoms – fever, cough or shortness of breath.
2. Please do not enter if you have recently returned from another country. Please go home and self isolate.
3. Please clean your hands with the hand sanitizer provided.
4. Please use debit or credit card if possible.
5. Practice social distancing. Stand 2 meters apart (6 feet) from each group.
6. When you have completed your game of Mini Golf please go directly to your car.

An employee will be on duty to continually sanitize and clean contact areas.

All golf clubs and golf balls will be sanitized after every use.

The debit machine will be sanitized after each use.

Practice social distancing during your game.

Do not start your game untill the group ahead of you has cleared the hole by 6 feet.

All Batting Cage helmets and bats will be sanitized after each use.

All Paintball Guns and contact area will be sanitized after each use.

All Gemstone Panning contact areas will be sanitized after each use.

You co-operation and patience is appreciated.

At this time the Teddy Bear Making, Abandoned Mine Shaft and the Rock Climbing Wall will be closed until further notice.
Welcome to Milltown Mini Golf – Family Fun Park
Milltown is a family oriented amusement park located in Peterborough Ontario. We have over 2 acres of beautiful landscaped park area.
Putt by 2 fish ponds, a working water wheel, a running water sluice all surrounded by beautiful gardens.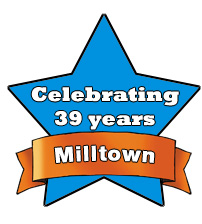 To add to your enjoyment we also offer Batting Cages, Rock Wall Climbing, Water Wars, Gemstone Panning, Build Your own Teddy Bear, an Abandoned Mine Shaft Gemstone Hunt and Treasure Hunt. Hunt for real coins from around the world with an authentic metal detector. Enjoy yourself at the Paintball Target Range and see how many targets you can successfully knock down. The targets get hit, you don't. After your activities, relax with a refreshment and enjoy watching others get soaked in the Water Wars game.
Milltown has been a family owned business since it was established in 1985. It our objective for you to experience a fun and enjoyable time in a safe environment with your family and friends. Thank you for your business.
Watch our 2015 Commercial