GIFT CERTIFICATES AVAILABLE
Please call us at 705-743-7789
IMPORTANT NOTICE
Milltown is Closing End of Season 2017
After 33 years of business we are closing Milltown Mini Golf at the end of the 2017 season. Our landlord sold the property where we are located to a local developer who will be building stores on our site. Working at Milltown is not like going to work, it's been a delight for us to be here. We have loved the many years of enjoyment that local residents and tourists alike have brought us. We will miss the laughter, joking and hugs that we see daily at Milltown. Over the years we have had the pleasure of seeing couples on their first dates at Milltown and then a few years later they will come back with their children. We have also enjoyed helping chairitable organizations raise thousands of dollars with fundraising mini golf events.
We would like to say Thank You Very Much to all of our customers for the many great years we have had at Milltown.
- Lynda & Barry Cross
Welcome to Milltown Mini Golf – Family Fun Park
Milltown is a family oriented amusement park located in Peterborough Ontario. We have over 2 acres of beautiful landscaped park area.
Putt by 2 fish ponds, a working water wheel, a running water sluice all surrounded by beautiful gardens.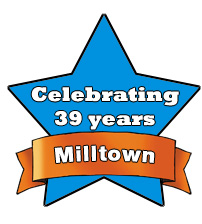 To add to your enjoyment we also offer Batting Cages, Rock Wall Climbing, Water Wars, Gemstone Panning, Build Your own Teddy Bear, an Abandoned Mine Shaft Gemstone Hunt and Treasure Hunt for real coins from around the world with an authentic metal detector. Enjoy yourself at the Paintball Target Range and see how many targets you can successfully knock down. Get blown away in the new Hurricane Wind Tunnel with wind speeds up to 78mph (126 km/hr). After your activities, relax with a refreshment and enjoy watching others get soaked in the Water Wars game.
Milltown has been a family owned business since it was established in 1985. It our objective for you to experience a fun and enjoyable time in a safe environment with your family and friends. Thank you for your business.
Watch our 2015 Commercial